New Hampshire Heroin Addiction Crisis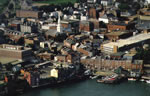 Heroin is steadily becoming a problem all across New Hampshire. Not only is it cheap, but it is readily available all across the state. While heroin use is widespread throughout the state, the focal point of heroin trafficking is in the southern part of the state near cities like Manchester and Nashua. Another reason why heroin is so popular in New Hampshire is because of the price. In most places in New Hampshire you can get a bag of heroin for less than a pack of cigarettes.
Many people across New Hampshire believe there is a real heroin epidemic in their community and have seen a steady rise in overdose deaths over the last few years. In the last 5 years alone there has been over 300 deaths due to people overdosing on heroin. With the end to this epidemic nowhere in sight, many are concerned that the next victim might be someone that they care about. If you, or a friend of family member is addicted to heroin in New Hampshire, you're not alone. While heroin is one of the most addictive substances in the world, heroin addiction can be overcome, as long as you have the right treatment, counseling and support.
Suboxone Doctors in New Hampshire
150 California Street, Newton

,

Massachusetts

02458

New Hampshire
255 Route 108, Somersworth

,

New Hampshire

03878
See All New Hampshire Suboxone Doctors
Overcoming a Heroin Addiction in New Hampshire
Overcoming a heroin addiction may be one of the toughest challenges you will ever be faced with. It will take everything you have, and require all your strength, determination and resolve. But in the end you can get through it, but you have to want to try. You have to be steadfast in your resolve to stop using and sincerely want to distinguish it out of your life forever. Once you truly make that commitment to quit using, the more you will realize that there are plenty of people around that want to help you.
There are dozens of excellent rehab and heroin detox centers all over the state of New Hampshire, and many doctors that help treat addiction. One of the benefits to going to a doctor is that they can prescribe you medicine that can help treat your addiction and heroin withdrawal symptoms. An example of this is a new heroin dependency medication called Suboxone.
Suboxone For Heroin Dependence
Suboxone, also known as Subutex, is an effective medication for heroin dependence and works to help ease withdrawal symptoms associated with heroin addiction. Suboxone is a partial opioid agonist, which means it contains a controlled opiate reaction, to help ease severe withdrawal symptoms that are common with long term heroin abuse. Suboxone also works to detoxify the body of any existing opiates, and blocks any new opiates coming into the body. If the user tries to use heroin during their Suboxone treatment, they will only get severe withdrawal symptoms from the drug.
Seek Help Now
Suboxone Treatment is only available through a SAMHSA certified physician who is legally permitted to administer suboxone. To find a New Hampshire heroin addiction center in your area, please feel free to take a look at our New Hampshire suboxone directory for a suboxone provider near you.