Pennsylvania Heroin Abuse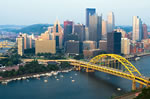 Heroin use in the state of Pennsylvania is a growing problem that doesn't look to be going away any time soon. As heroin remains widely available all across the state, this dangerous drug is attracting a whole new generation of people who often combine the drug with other substances such as cocaine and alcohol. This dangerous mixture of high purity heroin mixed with various other illegal substances has led to countless of overdose deaths in recent years.
While the greater Philadelphia area continues to be one of the largest consumer heroin markets in the country, all signs indicate that heroin use is spreading rapidly all across the state. The perception of heroin only being a problem in low income urban areas of Pennsylvania is quickly disappearing as demonstrated by the rising counts of heroin related deaths across the state.
Suboxone Doctors in Pennsylvania
2383 Limestone Rd, Wilmington, DE, USA

,

Delaware

19808
5230 York Road, Doylestown, PA, USA

,

Pennsylvania

18902
See All Pennsylvania Suboxone Doctors
Cities like Allentown, Bethlehem, Easton and Reading have all become lower-level heroin distribution hubs, increasing the availability of cheap, high purity heroin across the Pennsylvania. With the popularity of heroin increasing all across the state, especially among teens and young adults, many are beginning to realize that this problem is not only limited to poorer, urban areas of Pennsylvania but goes beyond all race and socioeconomic backgrounds.
Heroin Abuse
Heroin abuse is a growing problem in Pennsylvania, as it is in much of the country. Heroin is an opiate based drug that is synthesized from morphine, which is a naturally occurring substance found in the seed pod of the certain poppy plants. Heroin usually appears as a brown or white powder, or as a black sticky substance that is typically referred to as black tar heroin. Heroin abuse is associated with serious health conditions including fatal overdose, infectious diseases, as well as the risks of collapse veins, infection of the heart lining and valves, and kidney and liver disease.
Chronic heroin use can lead to long term physical dependence, a state in which the body has become physically and psychologically dependent to the drug. Heroin dependence is often associated with powerful withdrawal symptoms if the user reduces or stops taking the drug completely. Heroin withdrawal symptoms can set in hours after the last dose and can include bone and muscle pain, nausea, vomiting, cold flashes, insomnia, diarrhea and profuse sweating. Users will also experience powerful cravings for the drug which often lead to continued use and relapse. Withdrawal symptoms can be major obstacles for those looking quit heroin once and for all.
Heroin Addiction and Suboxone
Suboxone is a prescription medication that is effective in treating withdrawal symptoms associated with a heroin addiction. Suboxone, also known as Subutex, is itself a partial opiate, where in a controlled setting the doctor will administer it to you to ease withdrawal symptoms. Doses will then be tapered down until you have no sign of excessive drug cravings and withdrawal symptoms. Suboxone is effective on any opiate based drug including heroin, Oxycontin, percocet, Vicodin, morphine, and codeine.
Suboxone Treatment in Pennsylvania
Suboxone treatment in Pennsylvania can only be given by a certified doctor who is legally allowed to administer suboxone. To find a suboxone doctor in your area please feel free to look over our Pennsylvania suboxone directory for a suboxone provider near you.