Arkansas Drug Availability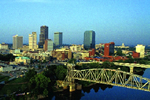 The availability and rate of drug abuse, especially in the metropolitan areas of Little Rock, Fort Smith and Fayetteville, continue to be high coinciding with the smuggling of marijuana, cocaine and prescription pills. While drug enforcement agencies do not identify heroin as a significant problem in their state, studies show that there is still a sizable segment of the Arkansas population who has recently sought help for a heroin or opiate addiction. If you live in Arkansas and you know somebody that has a heroin or opiate problem, do not hesitate to consider getting them some professional help for their addiction.
Seeking Help for an Arkansas Opiate Addiction
Unfortunately, most of us are all too familiar with the devastating affects that heroin and prescription drug abuse can have, not only for the individual, but their friends and family as well. Heroin, and other opiate based prescription drugs like Oxycodone, Oxycontin, Vicodin, are highly addictive substances that can create a strong physical dependency. Once an opiate dependency has taken hold, it often takes more and more of the drug to produce similar effects. This can create a vicious cycle that can often lead to long term addiction and ever an overdose.
Suboxone Doctors in Arkansas
1801 Central Ave., Suite A

,

Arkansas

71901
1 mercy ln suite 403, Hot Springs

,

Arkansas

70913
See All Arkansas Suboxone Doctors
Opiate Withdrawal
After the long term use of opioids including Heroin and other powerful opiate based prescription drugs, the body often forms such a dependency that the body will go through physical withdrawal symptoms without the drug. These symptoms may include watery eyes, excessive yawning, runny now, and sweating at first. They also can be followed by irritability, loss of appetite, tremors, vomiting, severe depression, elevated heart, and muscle spasms. Opiate withdrawal can be a major stumbling block to quitting an addiction and can be dangerous to the users health as well. To properly combat opiate withdrawal symptoms the best option is to go through some sort of opiate detoxification program.
Suboxone and Opiate Detoxification
Suboxone, also known as Subutex, is a prescription medication that combines two active ingredients, buprenorphine and nalaxone, specifically created to help with the opiate detoxification process. Buprenorphine helps to ease the horrible withdrawal symptoms, while naxalone undoes the effects of the opiates. Suboxone works on all opiate based drugs including heroin, oxycodone, oxycontin, vicodin, percocet, and methadone. Suboxone can only be prescribed by a doctor and will most likely be administered with some form of drug counseling program.
Finding Help
It is important to remember that Suboxone can only be prescribed by a SAHHSA approved physician. To find a local Suboxone physician near you feel free to take a look at our Arkansas Suboxone Directory.