Pain Killer Withdrawal Symptoms
Painkillers are usually powerful narcotic drugs that have the potential of causing destructive addiction issues if not taken in the way prescribed or taken experimentally. In fact, these drugs can make a person completely dependent upon them physically and emotionally, destroying their health as well as life. A painkiller addict can expect the following pain killer withdrawal symptoms:
Flu like symptoms followed by low energy
Body ache and anxiety
Shakes or full body tremors
Nausea and poor appetite
Headache and confusion
Sleeplessness
Confusion and severe mood swings
Sweating and chills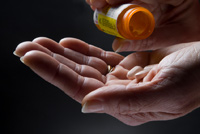 These withdrawals become evident in a short period after an addict stops taking the drug and they can get worse with passing time. This is the main reason why lot of addicts go into relapse. Pain killer detox helps in dealing with these painful withdrawal symptoms.
Detoxification process is an integral part of any addiction treatment and rehab program. This process helps an addict deal with his uncomfortable withdrawal in the easiest manner possible. During detox medications are used to help the patient wean of the addicted painkillers without the discomfort of withdrawal. Methadone is a commonly used medication to help control the pain of withdrawal while Suboxone helps in controlling the drug cravings during detox as well as rehab and aftercare. A detox program helps a patient's body get rid of toxic substances so that he can start his recovery process that will take him to a healthy and addiction free life.
Getting Help for Pain Killer Addiction
If you suspect that a loved one is suffering from an addiction then don't sit back and stay in denial.  Get him help now; don't watch a loved one suffer. Instead help them find treatment.
If you or a loved one needs to find a drug rehab center then our rehab helpline number is always available for you. Call us today and our expert adviser will help you find the best rehab center near your area.