What is Oxycontin Addiction?
Oxycontin is a prescription painkiller that contains oxycodone which is an opioid by nature. Opioids are highly addictive if taken regularly and for a long period of time. Although Oxycontin is not as dangerously addictive as morphine, it can be addictive if taken for a long period of time regularly. Opioid dependence is a result of the chemical changes the drug creates in the user's brain. When a person takes Oxycontin, he feels euphoric and happy. Overtime the user starts craving the drug to get through his day, which is when Oxycontin addiction takes place.
The worst thing about prescription drug abuse is that a user cannot just stop suddenly. The body gets so used to the drug that if it does not get its usual fix, it starts showing severe withdrawal symptoms. These withdrawal symptoms may not be life threatening but can be extremely uncomfortable physically and quite draining mentally. It is important that Oxycontin detox is done with the help of certified doctors and counselors is needed to get over the addiction in a healthy manner.
Oxycontin Addiction Treatment Option – How Suboxone is Utilized in Oxycontin Detox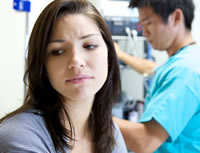 The usual oxycontin detox programs are:
Rapid opiate detox
Medical detox only
Methadone and Suboxone Treatment
Suboxone treatment used in the prescription drug abuse is very popular as this treatment gives a user the very best chance of staying in recovery. Let us take a look at the benefits of suboxone treatment.
Controlling the impact of withdrawal symptoms
Reduced drug cravings
Providing stability from the highs and low of opiate addiction
Encouraging the addict to get his life back on track in a healthy way
Helping the patient to develop a strong cognitive strategy that will help in long time recovery and reducing the risk of a relapse
Finding the right Oxycontin detox program and treatment center is now very easy, all you have to do is search above and get the nearest treatment center with just a click of your finger.