What is Vicodin?
Vicodin is a drug that is used to relieve moderate to severe pain and contains a combination of acetaminophen and hydrocodone. Vicodin may impair your thinking or reflexes, avoid operating machinery or driving until you know that Vicodin will affect you.
Street Names for Vicodin
Apart from the medical names as used by medical professionals, addictive drugs are also known by some short names, also known as street names. The street names for Vicodin are Percocet or perks, vicks.
Signs and Symptoms of Vicodin Addiction
People who take Vicodin tend to feel a rush of euphoria and relaxation and any physical pain in the body disappears. After constant usage, the person develops a tolerance for the drug, and starts consuming more of it to get the same experience. Most of the Vicodin drug abusers consume between 20-30 pills each day, and sometime consume more. The most noticeable symptoms of Vicodin addiction have been mentioned below:
Appearing drowsy
An obsession with procuring and consuming Vicodin
An inability to focus on a given task
Extreme anxiety and paranoia
Severe mood swings
Nausea and vomiting
Vicodin Abusers often resort to fraudulent means to procure Vicodin, like, doctor shopping. Owing to their intense focus on Vicodin, everything else in their lives take a back seat and their personal, financial and professional situation may begin to deteriorate.
Vicodin Addiction Withdrawal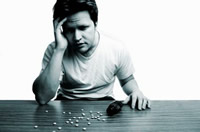 It usually takes a user about a week to kick the Vicodin, during withdrawal, the user may experience moderate to severe withdrawal symptoms. The withdrawal symptoms usually include diarrhea, cold flashes, leg spasms, vomiting, muscle and bone pain, between forty-eight and seventy-two hours after the last dose. It is highly recommended that the level and frequency of doses are to be tapered under medical supervision. Both inpatient detoxification and withdrawal programs may be needed to ensure a safe and sustained recovery.
Side Effects of Vicodin Usage
There are many side effects of Vicodin addiction and most of them are quite common for opiate medications. You should consult a medical practitioner if the symptoms become severe. The usual side effect symptoms include: unusual moods (happy or sad), difficulty in urinating, dry throat, dizziness, nausea, constipation, difficulty concentrating, anxiety and drowsiness. Two of the more severe side effects that should be immediately brought to the notice of a medical practitioner are – irregular or slow breathing and a tightening in the chest.
Vicodin Dependency
It is not easy to discover that you have become dependent on Vicodin owing to the fact that it happens gradually over a span of time. The more you turn to Vicodin for pain relief, the more are your chances of getting dependent. You need to be alert while consuming Vicodin, or else your life can begin to revolve around Vicodin.
How can Suboxone help?
If you know someone who has fallen prey to deadly Vicodin Addiction, then, there is absolutely nothing to panic. Keep your calm and try to counsel the person and do not let him feel that he has done something grave by giving in to Vicodin abuse as it might increase his anxiety levels. All you need to do is contact Suboxone expert and seek help to get rid of addiction. Our team of medical practitioners will offer a holistic rehabilitation program that will include therapies and counseling sessions. The rehabilitation process will be such that the patient will not like to get back into addiction in the future. So, if crisis has struck someone close to you, then, contact a Suboxone expert today to seek help!