About Prescription Drugs
Prescription drugs are drugs that can only be prescribed by a certified medical professional and can be bought only at pharmacies for a mental or physical health condition. Without a prescription, these drugs cannot be bought as some of these have high potential of being abused. If not taken as prescribed by the doctor, they can cause drug addiction and can have serious side effects on the physical as well mental health of the patient.
There are three major types of drugs that are abused most often and they are:
Opioids – opioids are derived from poppy plants and they are prescribed for pain relief
Stimulants – these medications are prescribed for obesity, sleep disorder narcolepsy and attention-deficit hyperactivity disorder (ADHD)
CNS depressants – as the name suggests these medications are prescribed for sleep disorders and anxiety and they are also commonly referred to as sedatives or tranquilizers. Barbiturates and benzodiazepines are the most commonly prescribed CNS depressants
Difference between Prescription Drugs and OTC Drugs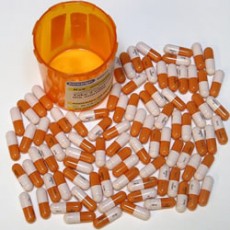 The major differences between prescription drugs and OTC, over the counter drugs are:
Prescription drugs:
They are prescribed by a certified doctor and can be bought only at pharmacies
These drugs can only be prescribed and used by one person whose name is written on the prescription
Prescription drugs are regulated by FDA through the New Drug Application (NDA) process
OTC drugs:
These drugs do not require a prescription and can easily be bought off-the-shelf or over the counter in stores
Regulated through the OTC monographs (FDA) that can be defined as a 'recipe book 'that covers the acceptable doses, ingredients, labeling and formulations.
Abuse of Prescription Drugs
Prescription drug abuse can be defined when a person starts taking these drugs in a different way as prescribed by the doctor. Prescription drug addiction could be:
When a person takes a drug that is prescribed for someone else
When a person takes a larger dose than the one he is supposed to
When a person takes the medication in different way than you are supposed to like using it to get high
If you or a loved one needs to find a drug rehab center for drug addiction treatment, our rehab helpline number is always available for you. Call us today and our expert adviser will help you find the best rehab center near your area.