International Hub For Drug Smuggling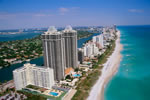 Florida is a prime area for international drug trafficking and money laundering organizations, and is a principle access point for heroin smuggling to the northeastern US and Canada.  With over 8,000 miles of Florida coastline and the short 45 mile distance between Florida and the Bahamas, provides unlimited opportunities for drug trafficking organizations to smuggle drugs into the US.  The highest drug trafficking areas are located in Florida's beautiful southern coastal areas including Miami, Ft. Lauderdale, Daytona Beach and Key West.
Miami is the primary domestic command center for Colombian drug traffickers and is the major entry point for South American heroin into the United States.  Florida also leads the nation in heroin seizures and has some of the highest heroin availability rates in the country.  Because of this widespread availability of high purity heroin all over the state of Florida, Florida has some of the highest usage rates in the country as well.
Suboxone Doctors in Florida
3641 Tyrone Boulevard North, St. Petersburg, FL, USA

, #3,

Florida

33710
1000 Northwest 15th Street, Boca Raton, FL, USA

,

Florida

33486
See All Florida Suboxone Doctors
Florida Heroin Addictions
Heroin is an illegal narcotic that is typically injected or snorted.  Regardless of the method of how the drug is ingested, heroin continues to be one of the most dangerous and addictive substances known to man.  Once addicted, the user will do whatever they can do to get more.  Often times users may become completely different people than the person they once were, and they will often lie, steal, sometimes even commit crimes to get their fix of the drug.
However, what people may not realize is that a heroin addiction, just like any other addiction, is a mental disease and needs to be treated medically.  Without the proper medicine and addiction therapy, it can be extremely difficult, almost impossible, to kick the habit for good. But a person addicted to heroin cannot be helped unless they want to.  They must have a strong commitment to get better and a real determination to stop.  If the user cannot be honest with themselves and admit they have a problem, they often will go into treatment half-heartedly, or not seek treatment at all.  By first admitting that they have a problem enables them to understand that it is not all their fault and they can then seek treatment with the weight of the world off their shoulders.
Overcoming a Heroin Addiction with Suboxone
One of the most challenging obstacles to overcome when battling a heroin addiction in Florida is the severe withdrawal symptoms users get after they stop taking the drug.  Also known as "dope sickness" these withdrawal symptoms can last for several days to even a week, and can take a real toll on the mind and body.  In order to combat these terrible symptoms, many doctors all over the country are now prescribing a unique medication called Suboxone, that is specifically designed to ease opiate withdrawal symptoms.  Suboxone has been proven to be one of the most effective opiate addiction treatments available.  Suboxone not only works for heroin addiction, but works on any opiate based prescription pill addiction as well, such as oxycontin, oxycodone, vicodin, percocet, morphine, and codeine.
Seeking Help for Heroin Addiction in Florida
If you or a loved one is struggling with a heroin or other opiate based addiction, do not hesitate to look through our comprehensive Florida suboxone directory for a suboxone doctor near you.