Chicago's Heroin Crisis
Due to Chicago being the major distribution center and transportation hub for illicit drugs through the entire Midwest, Illinois has some of the highest drug addiction rates in the country, especially heroin.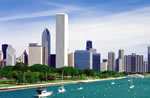 Currently, Chicago is regarded by most as having the worst heroin problem in the nation. Demand is high for heroin in Chicago, and it is readily available. Heroin's popularity in Chicago is thought to stem from it's low cost, and higher purity which allows users to effectively snort or smoke the drug, rather than injecting it.
Heroin abuse remains widespread all over the Chicago metropolitan area, not only in urban areas, but suburban areas as well. Nearly 24,000 Chicago citizens were admitted to hospitals in 2009 due to heroin, more than any other city in the country. Chicago also has some of the highest rates of overdose deaths in the country. Recent studies also show a significant rise in the availability of high purity heroin all over the state of Illinois especially around the metropolitan areas of Springfield, Peoria and Champaign.
Suboxone Doctors in Illinois
See All Illinois Suboxone Doctors
Seeking Help for a Heroin Addiction in Illinois
Heroin addiction in Illinois is not limited to any race or social class, and is a widespread problem in all areas of Illinois. Studies show that a younger and younger population are starting to use heroin, especially among white suburban males ages 20-28. Because heroin has been so over glamorized on t.v. and in the movies in recent years, coupled with it being cheap and widely available, has caused a true heroin crisis in Illinois cities like Chicago and Champaign, with thousands of citizens scratching their heads.
However, what many people don't realize about a heroin addiction, that just like any other addiction, it is a mental disease and needs to be treated in that capacity. Expecting a heroin addict to quit and go cold turkey may seem like common sense from an outside perspective, but may seem completely insurmountable to the addict. And with the risk of severe withdrawal symptoms that are usually associated with long term heroin use, many addicts may feel completely helpless under the drugs powerful control. However, there are many powerful and effective prescription drugs on the market that help battle heroin withdrawal and addiction symptoms. The most effective of these drugs is known as Suboxone.
Treating Heroin Withdrawal Symptoms with Suboxone
Suboxone, also known as Subutex, is proven to be one of the safest and most effective opiate addiction treatments. Illinois Suboxone rehab helps ease withdrawal symptoms associated with Heroin or prescription drug withdrawal. Suboxone can only be administered by a SAHHSA approved physician and is usually combined with drug counseling, and behavioral therapy. Suboxone is effective in treating all types of opiate addictions including oxycodone, oxycontin, vicodin, percocet, morphine and codeine.
Illinois Heroin Addiction Recovery Using Suboxone
If you're interested in Illinois heroin addiction recovery, please take a look at our extensive Illinois Suboxone directory for a suboxone physician near you.