Heroin Use in Maine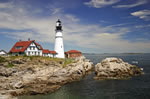 While the use of locally grown marijuana remains the primary drug abused in the state of Maine, the use and availability of heroin and pharmaceutical painkillers are on the rise. Heroin use is on the rise in Maine primarily due to Massachusetts-based Dominican traffickers that supply high purity heroin to it's Maine distributors. While use is more prevalent near the major metropolitan areas around Bangor and Portland, new studies show that heroin use has spread into more rural and remote areas of Maine. Heroin abuse has also increased dramatically among teenagers and young adults in areas around Bridgeton, Rockton and York counties.
Law enforcement is now classifying Heroin as the second most significant drug threat in the entire state of Maine, behind marijuana. Law enforcement officials also not the high number of heroin related overdoses and treatment admissions to indicate that heroin is widely being abused throughout the entire state. South American heroin is the predominant type sold throughout the state and is primarily smuggled down the I-95 interstate.
Suboxone Doctors in Maine
1 VA Center, Augusta

,

Maine

04330
123 Andover Road, Westbrook

,

Maine

04092
See All Maine Suboxone Doctors
Maine Heroin Addiction and Dependency
One of the major risks of heroin abuse is the onset of heroin dependency. Heroin dependency is a very dangerous condition where the user has become completely dependent on the drug and needs the drug to function normally. It is also very common for the user to develop strong withdrawal symptoms if they haven't used the drug over a certain period of time. Heroin withdrawal symptoms can be moderate to severe and usually involve profuse sweating, nausea, vomiting, excessive yawning, leg and muscle pains, as well as an elevated heart rate.
When developing a dependence to heroin, a heroin user will most likely build up a tolerance to the drug. This means that the user will need to take more and more of the drug to achieve the desired effects. This can be very dangerous to the user and is often the primary reason of overdose deaths.
Suboxone for Heroin Addiction in Maine
Suboxone, also known as Subutex, is a prescription medication that helps to ease withdrawal symptoms associated with opiate dependency. Suboxone also works to detox the body of any existing opiates that might still be in your system. Suboxone administered in an anonymous outpatient setting and is often combined with other treatments such as behavioral therapy, support groups, and individual drug and addiction counseling. Suboxone not only works effectively for heroin addiction, but also on any opiate based drug including Oxycontin, oxycodone, Vicodin, percocet, codeine, and morphine.
Suboxone can only be prescribed by a SAHHSA approved physician who is legally certified to administer Suboxone. To find Maine heroin addiction help near you please feel free to check over our detailed Maine Suboxone directory for a licensed physician in your area.