Mississippi Oxycontin Abuse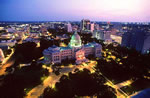 While cocaine, particularly crack cocaine, is widely considered the biggest drug threat facing the "Magnolia State", the abuse of pharmaceutical drugs like Oxycontin and vicodin is becoming a major concern. The trafficking of illegal narcotics, such as powerful prescription drugs, has been a significant concern in the state of Mississippi for several years due to it's vast highway interstate system and deepwater and river ports. Mississippi is widely known as the "Crossroads of the South" facilitating drug movement from Texas, Mexico and Gulf ports to the entire Midwest and Eastern Seaboard.
In Mississippi, the diversion of pharmaceuticals, such as Oxycontin, and Vicodin, are mainly occurring through drug smuggling from Mexico and through doctor shopping schemes like forging and altering prescriptions. Oxycontin is the most widely abused pharmaceutical drug in all of Mississippi, and is the leading cause of overdose deaths in the state since 2000. Oxycontin abuse is widespread all over the state of Mississippi, but is widely available in Mississippi's metropolitan areas of Jackson, Gulfport and Southaven.
Suboxone Doctors in Mississippi
2340 Sunset Drive - Suite C, Grenada, MS 38901

,

Mississippi

38901
55 Seargent S. Prentiss Dr - Suite 102, Natchez

,

Mississippi

39120
See All Mississippi Suboxone Doctors
Oxycontin Abuse
Oxycontin abuse is a serious problem in Mississippi and all over the United States, and shouldn't be taken lightly. Oxycontin is a powerful pain suppressant and aids people who have severe chronic pain. Because of Oxycontin's powerful nature, it can be a very effective pain reliever, but can also be extremely addicting. Because of it's highly addictive nature, it is not uncommon for those dealing with extreme pain to become addicted to this powerful narcotic, and develop a strong dependency for the drug.
Oxycontin Dependency and Withdrawal
Because Oxycontin is a powerful opiate, long term abuse can easily cause addiction and dependency. Oxycontin addiction is characterized by chronic use and an increasing tolerance to the drug. As a person's tolerance grows, more and more of the drug will be needed to produce the same effect. This is not only extremely dangerous to the user, but can only also result in developing a strong dependency to the drug. Once a dependency has developed, the user will no longer be able to function normally without the drug, and the body will start having withdrawal symptoms.
Oxycontin withdrawal symptoms can last days or even weeks depending on the severity of the addiction. Oxycontin withdrawal is rarely fatal, but can be life-threatening to those in very poor health. Withdrawal symptoms include aches and pains, flu like symptoms, headaches, loss of appetite, nausea, vomiting, profuse sweating, mood swings, and sleeping difficulties. Oxycontin withdrawal can also cause possible damage to the lungs, heart and brain.
Suboxone for Oxycontin Withdrawal
If you are suffering from severe withdrawal symptoms from oxycontin, or any other opiate based drug, you may want to consider taking Suboxone. Suboxone is a prescription medication used to help treat withdrawal symptoms associated with opiate abuse. Suboxone works on all forms of opiate addictions including heroin, oxycontin, oxycodone, vicodin, percocet and morphine. Suboxone is usually administered in an outpatient setting and is typically combined with other effective drug addiction treatments like behavioral therapy, drug counseling, and group therapy.
Mississippi Suboxone Physicians
If you would like to find out more information about doctors who treat Mississippi Oxycontin abuse, please browse our Mississippi Suboxone directory for a provider near you.