Heroin Abuse in Nebraska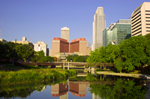 While heroin is not widely considered the drug of choice in Nebraska, it is still widely available in small quantities in metropolitan areas around Omaha, Lincoln and South Sioux City. However, in recent years due to the influx in Mexican gang activity all across the state, heroin use is on the rise in many smaller communities all over the "Cornhusker State". With this increasing use of heroin, especially by young white suburban males, many in Nebraska are concerned this recent influx of heroin in the state is only the beginning. With an increased number of hospitalizations and overdose deaths due to heroin in recent years, many in Nebraska are calling on law enforcement to get this matter under control before it's too late.
Most of the heroin distributed in Nebraska occurs at the retail level by local independent dealers, street gangs and Mexican criminal groups. Most of the heroin located in the state of Nebraska is Mexican black tar heroin, and Mexican brown powder heroin. Mexican black tar heroin is generally sold in $50 "beans" across the state, which are quantities of less than one-quarter gram that are wrapped in strips cut from a balloon.
Suboxone Doctors in Nebraska
1490 North 16th Street, Omaha

,

Nebraska

68102
601 North 50th Street Suite 1609, Omaha

,

Nebraska

68131
See All Nebraska Suboxone Doctors
Heroin Addiction and Dependency
Heroin addiction can be a crippling disease and can strip the very life out of those that use it. Those that use heroin are also at risk of contracting blood-borne diseases such as HIV and hepatitis, as well as dangerous bacterial infections. Those addicted to heroin are also at risk of lethal overdoses that occur when the drug has been cut and sold with dirty or lethal contaminants. Long term use of heroin can also result in addiction and physical dependence.
Heroin dependence is a dangerous condition where the user is completely physiologically and physically dependent on the drug. They will no longer be able to function mentally or physically without the drug, and their bodies will actually go into withdrawal if they haven't taken the drug over a certain period of time. Heroin dependency is usually characterized by classic symptoms including strong drug cravings, tolerance, sudden mood swings, long and unexplained absences, track marks on the arm and other parts of the body, sniffling, sneezing and cold-like symptoms. Heroin dependence can lead to severe withdrawal symptoms that can make it very difficult for users to quit using the drug cold turkey.
Suboxone for Heroin Dependence and Withdrawal
Suboxone is a first of its kind prescription medication used for the treatment of heroin dependence and withdrawal. Suboxone, also known as Buprenorphine, helps to ease withdrawal symptoms associated with heroin abuse and also works to suppress any existing opiates that may currently be in the body. Nebraska Suboxone Rehab is effective on any opiate based drug including Oxycontin, oxycodone, codeine, percocet, Vicodin, and morphine.
Seek Help Now
Suboxone can only be provided by a licensed physician who is certified by the SAMHSA. To find a Nebraska heroin addiction treatment center near you, feel free to look through our extensive Nebraska Suboxone directory for a local provider.