North Dakota Heroin Abuse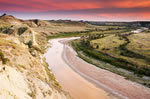 While the trafficking and use of methamphetamine is the primary drug concern in the state of North Dakota, many law enforcement officials have identified heroin use as a growing problem in many areas of the state. Police and law enforcement officials report that while high purity Mexican brown powdered heroin is occasionally available near the major cities of Fargo and Bismarck, Mexican black tar heroin is the main type of heroin available in the state. Recent overdoses in isolated rural areas of North Dakota suggest that this drug threat is spreading from more traditional urban areas to suburban North Dakota communities.
Dangers of Heroin Abuse
There are many inherent dangers and health risks associated with using heroin. One of the biggest risks is fatal overdose. Because it's basically impossible to judge the purity levels of heroin bought off the street, countless of accidental overdoses have occurred due to users taking too large of a dose. The excess amount of heroin in a users body can cause their system to slow down, while lowering blood pressure and weakening the pulse. Lack of oxygen can often lead to slow, shallow breaths, or the person may even stop breathing completely.
Suboxone Doctors in North Dakota
900 East Broadway Po Box 5510, Bismarck

,

North Dakota

58506
2704 North Broadway Suite C, Fargo

,

North Dakota

58102
See All North Dakota Suboxone Doctors
Heroin Addiction and Dependency
Long term heroin use also comes with the risk of addiction and dependency. Because heroin is derived from powerful opiates, it is often considered one of the most addictive substances in the world. Long term heroin addiction is also plagued by physical and psychological heroin dependency. Heroin dependency happens when the users body has become so used to taking the drug that the body's chemistry adapts to the heroin in the system and can no longer function normally without it. Heroin dependency can lead to painful withdrawal symptoms that can set in hours after the last dose. These symptoms can be very painful and can be major obstacles for users trying to quit heroin cold turkey.
Suboxone for Heroin Dependency
Suboxone is a prescription medication that has proven to be effective in the treatment of long term heroin addictions. Suboxone is a partial opiate agonist, which means it contains a controlled amount of opiates that are used to help combat withdrawal symptoms associated with a heroin addiction. Suboxone can help to ease these symptoms until they are non-existent. Suboxone also contains powerful agents that work to block any existing or future opiates that may be in your body. This helps to aid in the detoxification process and helps to ensure that people won't use during treatment. Suboxone is effective on any opiate based addiction including oxycontin, oxycodone, codeine, vicodin, percocet and morphine.
North Dakota Suboxone Physicians
Suboxone can only be prescribed by a medical physician who is legally certified to administer suboxone. To find a North Dakota Suboxone physician please feel free to take a look at our North Dakota suboxone directory.