Heroin Abuse in Puerto Rico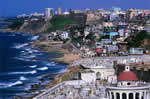 For the last 15 years heroin has posed a significant drug threat to Puerto Rico. Heroin abuse is such a significant problem in Puerto Rico largely because of the high availability of high purity South American all across the island. Southeast Asian, Mexican black tar, and Mexican heroin is also available in lesser quantities. Heroin activity is highest around Puerto Rico's largest cities of San Juan and Bayamon, while smaller communities such as Arecibo and Fajardo have become secondary distribution hubs spreading heroin all across the island. If you, or someone you love has a heroin addiction in Puerto Rico, it is not too late to get the treatment you need to turn your life around.
Suboxone Doctors in Puerto Rico
Humacao Medical Plaza Calle Font Martelo # 53, Humacao

,

Puerto Rico

00791
Carretera 2 Km 11.2, Bayamon

,

Puerto Rico

00958
See All Puerto Rico Suboxone Doctors
Puerto Rico Heroin Addiction
Heroin addiction is one the most destructive and damaging addictions in the world. Rehab for heroin addiction can often be a lifelong process plagued by a countless series of relapses. While most heroin addicts never set out to become addicted to the drug, because of heroin's highly addictive nature, and immediate gratification, it can only take one dose to get a person hooked for life.
Heroin addiction generally starts with an increased tolerance and an increasing need or dependence on the drug. Heroin dependence occurs when the heroin user has become so dependent on the drug that their bodies can no longer function normally without it. When an individual becomes physically dependent to heroin, the individual is likely to go through a series of moderate to severe withdrawal symptoms if they are without the drug for a short period of time. Withdrawal symptoms include nausea, vomiting, diarrhea, profuse sweating, bone and muscle ache, anxiety and an increased heart rate. Withdrawal symptoms generally last 24-72 hours, but individuals have reported symptoms for weeks to even months after their last dose.
Easing Withdrawal Symptoms with Suboxone
While many users are able to stop using the drug either by quitting cold turkey or by seeking treatment at various rehab or drug counseling clinics, many are still unable to physically get through the dreadful withdrawal symptoms. In these cases, many patients are advised to try a medical detox alternative such as Suboxone.
Suboxone is a prescription medication used for the treatment of heroin dependency and heroin withdrawal symptoms. Suboxone, also known has Subutex, uses the powerful compound Buprenorphine, to help neutralize withdrawal symptoms and work to block any existing opiates from entering your system. Suboxone is effective on any opiate addiction including heroin, oxycontin, oxycodone, percocet, vicodin, codeine and morphine.
Seek Help Now
Puerto Rico Suboxone treatment is typically provided in an outpatient setting and can only be approved by a SAMHSA certified physician. To find a certified suboxone doctor in your area please feel free to look through our Puerto Rico Suboxone directory for a suboxone provider near you.