Heroin Abuse in the Virgin Islands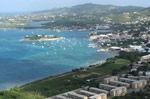 According to recent studies done by local law enforcement and the Department of Justice, heroin use is on the rise in the Virgin Islands and poses the a significant drug threat to this region. This surge in heroin availability is widely due to the large influx of high purity South American and Mexican black tar heroin smuggled in from various South American and Mexican drug trafficking organizations. While heroin distribution is mostly limited to small Hispanic communities in the Virgin Islands like St. Croix, recent evidence shows that heroin distribution is spreading to other Virgin Island communities shown by the large bust in Charlotte Amalie last year.
Virgin Islands Heroin Abuse
Heroin is a highly addictive drug that has taken the lives of thousands of its users. Heroin abuse has far reaching repercussions that extend beyond the individual user themselves. Heroin comes with a high medical and social cost to the society at large due to the spread of HIV/AIDs, hepatitis, as well the crime and violence associated with its use. Heroin abuse also takes a devastating toll on the family unit, and costs society billions of dollars every year in state funded treatment and incarceration costs.
Suboxone Doctors in Virgin Islands
3500 Richmond Street, Christiansted

,

Virgin Islands

00820
125 meter south from Scotiabank

, Rohrmoser, San Jose,

Virgin Islands

10203
See All Virgin Islands Suboxone Doctors
Heroin Addiction and Dependency
Heroin is currently one of the most addictive and destructive substances on the planet. Because heroin is derived from synthetic morphine, it comes with a high rate of addiction and dependency. After frequent heroin use the brain will lose its capacity to manage normal body functions and will have a hard time functioning without heroin in the system. This is also known as physical dependency and can be like an actual living nightmare for those who experience it. Physical dependency to heroin is usually characterized by moderate to severe withdrawal symptoms also known as "Dope Sickness". These symptoms can last anywhere from 24 hours to a week and is often compared to as a living hell.
Suboxone For Heroin Withdrawal
Because heroin withdrawal symptoms can be such major obstacles for heroin addicts to quit using, scientists have formulated a new drug called Suboxone, to help combat opiate sickness. Suboxone, also known as Subutex, uses the powerful compound Buprenorphine, to combat these powerful symptoms and ease pain and sickness associated with opiate withdrawal. Suboxone is usually administered in an anonymous outpatient setting and is often combined with a series of other effective treatments like behavioral therapy and addiction counseling. Suboxone rehab in the Virgin Islands is effective on any opiate based drug addiction including heroin, oxycontin, codeine, percocet, vicodin, and morphine.
Seek Help Now
If you, or someone you love, is struggling with a heroin addiction do not hesitate to contact a suboxone doctor in your area for more information. Please check out our Virgin Islands Suboxone directory for a suboxone doctor near you.