Virginia Heroin Abuse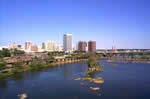 Heroin usage rates have nearly doubled in the state of Virginia in the last 10 years, and in many areas such as Roanoke and Richmond, they are at all time highs. With an influx of black tar heroin coming from Mexico, as well as Virginia being close to many large Eastern Seaboard drug distribution hubs like Boston and New York, Virginia has a large availability of dangerous drugs such as heroin and Oxycontin. Virginia also has some of the lowest prices of heroin and oxycontin across the country. Also, heroin use across Virginia is widespread and affects all areas of the state including urban areas around Richmond as well as more rural and affluent areas as well.
Heroin Abuse
Heroin is an illegal and highly addictive narcotic produced from the seed pods of the opium plant. Heroin is the most widely abused opiate in the state, with oxycontin coming in close second. Heroin is typically sold as a brownish or white powder, or as a black sticky substance also known as black tar. Heroin can be snorted, sniffed, or smoked, but the most popular method is injection, which offers the quickest and most powerful high. Heroin comes with a high risk of addiction and dependence. Also, because it's impossible for users to accurately know the purity levels of the heroin their taking, as well as what else the heroin is mixed with, it comes with a high risk of overdose, which can often times be fatal.
Suboxone Doctors in Virginia
1807 Huguenot Rd #117, Midlothian, VA

,

Virginia

23113
2050 Ballenger Ave., Alexandria

,

Virginia

22314
See All Virginia Suboxone Doctors
Heroin Dependency and Withdrawal
Heroin is commonly referred to as one of the most addictive and destructive substances man has ever created. Heroin abuse comes with a high rate of addiction, and dependency which is usually characterized by severe withdrawal symptoms. Heroin withdrawal symptoms, also known as dope sickness, can be so severe that users will go on abusing the drug for months, to even years, just to avoid these symptoms. Heroin withdrawal can often be one of the biggest obstacles for users who want to quit using, but are afraid of the consequences. However, there are treatment options available that are specifically designed for opiate withdrawal. One of these treatments is a prescription medication called Suboxone.
Virginia Heroin Withdrawal Using Suboxone
Suboxone, also known as Subutex, is a prescription medication used to ease symptoms of heroin withdrawal. Suboxone is usually administered in an outpatient setting and is closely monitored by physician. Suboxone can help to ease this horrible withdrawal pain and get you through these symptoms so that you can better respond to further treatment like addiction therapy and counseling. Virginia Suboxone rehab is effective on any opiate based drug addiction like heroin, oxycontin, vicodin, percocet, codeine, and morphine.
Seek Help Now
If you need to find a Virginia heroin withdrawal center, please browse our Virginia Suboxone directory for a licensed suboxone doctor in your area.