Heroin Use in the State Of Washington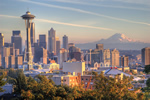 While heroin use has not historically been a problem in the state of Washington, recent studies show that heroin abuse is on a steady incline, especially in large metropolitan areas around Seattle, Tacoma and Yakima. Violence associated with heroin abuse and distribution is also on the rise in many areas throughout the state, with Mexican criminal groups being the primary transporters of the drug. These groups transport the drug primarily from Mexico and California, to their Mexican local independent dealers strategically located throughout the state. Mexican black tar heroin is the predominant type of heroin found in the state, with a small quantity of Asian heroin found sporadically.
Suboxone Doctors in Washington
12101 Ambaum Blvd SW, Seattle

,

Washington

98146
7225 East Southgate Drive, Sacramento

,

California

95823
See All Washington Suboxone Doctors
Washington Heroin Abuse on the Rise
While heroin abuse was on a downward trend throughout most of the 1990's, this last decade has seen a powerful resurgence of the drug. This recent upsurge in heroin abuse is attributed to several factors including an increasing availability of the drug, as well as an increasing availability of substitutes for heroin like oxycontin. Law enforcement also blames the glamorization of heroin in music, TV, and movies in recent years as a contributing factor towards its new found popularity. Also, with high purity heroin being available all across the country at cheaper prices then ever before, there is little surprise why many areas of the country have found themselves in the middle of a heroin crisis of their own.
Heroin Dependency
Long term heroin use and addiction often leads to heroin dependency. Heroin dependency can both be physical and psychological disorders, where the individual will begin to depend on heroin to get through the day. After the body has taken heroin for a certain duration of time, the body can adapt to this influx of opiates, and begins to depend on them to function normally. However, once the opiates are out of the individuals system, their body will not be able to function normally without them, and moderate to severe withdrawal symptoms will set in. Withdrawal symptoms can be moderate to severe and usually including vomiting, nausea, diarrhea, profuse sweating, muscle and bone pain, abdominal cramps, just to name a few.
Suboxone for Heroin Withdrawal Symptoms
Suboxone, also known as Subutex, is a unique prescription medication that is specifically designed to combat withdrawal symptoms associated with a heroin addiction. Because suboxone is a controlled partial opiate, it helps the body to cope with withdrawal pains, while working to block any other opiates from effecting your system. Suboxone is usually administered in an anonymous outpatient setting and is typically combined with other effective treatment options like addiction counseling and behavioral therapy. Washington Suboxone treatment is effective on any opiate based addiction including heroin, oxycontin, percocet, vicodin, codeine, and morphine.
Seek Help Now
If you, or someone you love, is struggling with a heroin addiction do not hesitate to look through our extensive Washington Suboxone directory for a suboxone provider in your area.